Visit Our Synagogue in Leicester
Our Heritage Centre works to share the cultural and religious heritage of Jewish life in Leicester with the wider community, promoting multi-cultural understanding.
Visit our Grade II listed synagogue and learn about the Jewish way of life, our history and festivals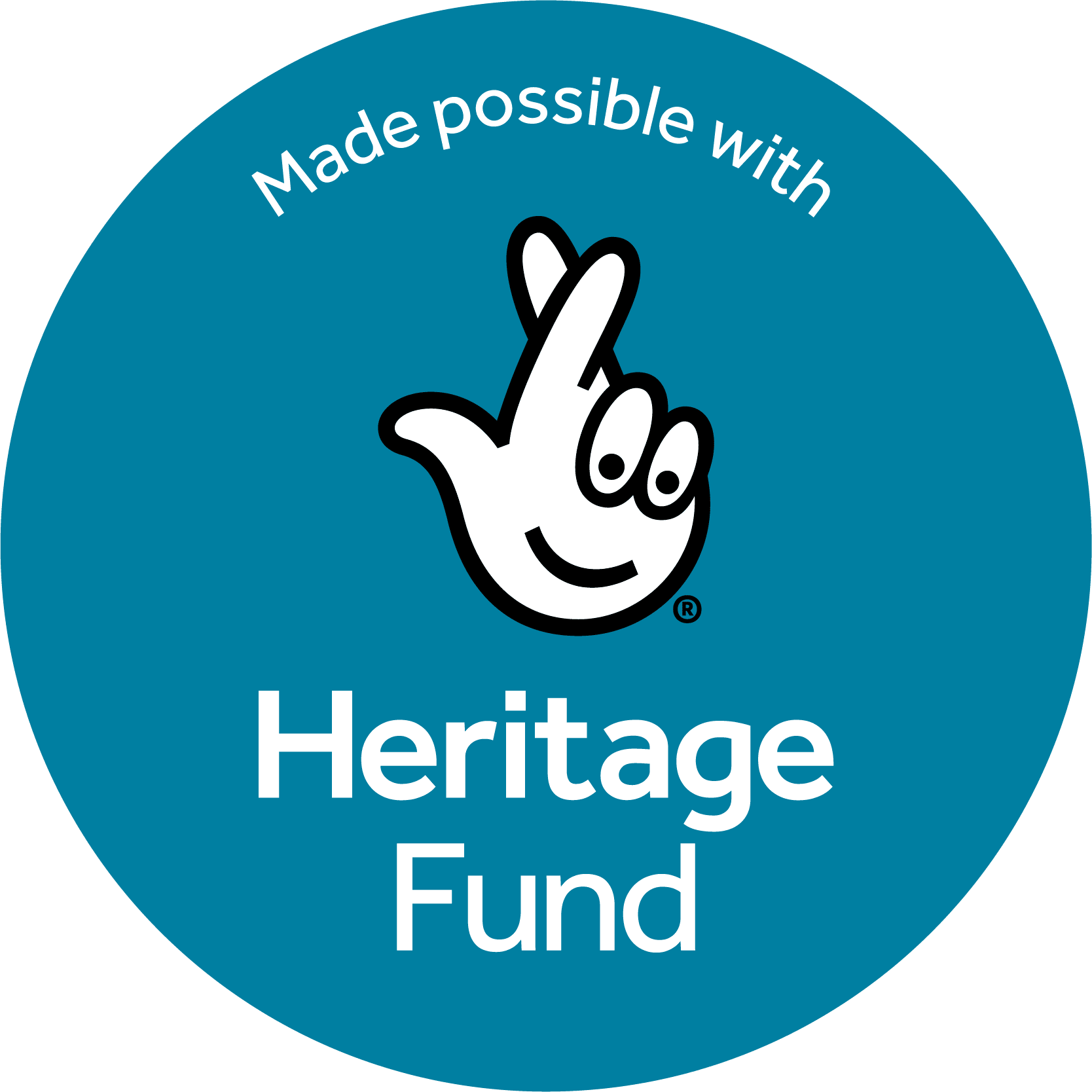 LHC is a warm, vibrant and welcoming traditional Jewish community with over 120 years of history and culture. Our Rabbi, Shmuli Pink together with his wife Rivkie, lead our community, ensuring Jewish continuity in Leicester. Regular services are held in the Synagogue.
We are proud to welcome people of all faiths and none to our Heritage Centre, newly built, with funding from The National Lottery Heritage Fund. With the help of our ambassadors we are able to guide you through our heritage and religion.
We look forward to welcoming you
LHC is a warm, vibrant and welcoming traditional Jewish community with over 120 years of history and culture. Our Rabbi, Shmuli Pink together with his wife Rivkie, lead our community, ensuring Jewish continuity in Leicester. Regular services are held in the Synagogue.
We are proud to welcome people of all faiths and none to our Heritage Centre, newly built, with funding from The National Lottery Heritage Fund. With the help of our ambassadors we are able to guide you through our heritage and religion.
We look forward to welcoming you
Rabbi and Mrs Shmuli Pink joined us in August 2001. Rabbi Shmuli was born in Manchester where he was first educated up to university entrance. He then pursued rabbinical studies at Yeshivot in Israel, South Africa and in New York where he gained Semicha in 1998.
Following his marriage to Rivkie (nee Weinbaum) in 1998, he undertook postgraduate rabbinical studies in New York for a further year.
Apart from his early rabbinical experience in England, South Africa, the USA, US Virgin Islands and Puerto Rico, Rabbi Pink brings a wide experience as a university counsellor at Oxford University and Director of Religious Programmes in Calgary, Alberta. He is fluent in English, Hebrew and Yiddish.
Rabbi Pink is the visiting Chaplain to local hospitals and prisons and is always available to speak to anyone and can be contacted on
0116 270 6622
.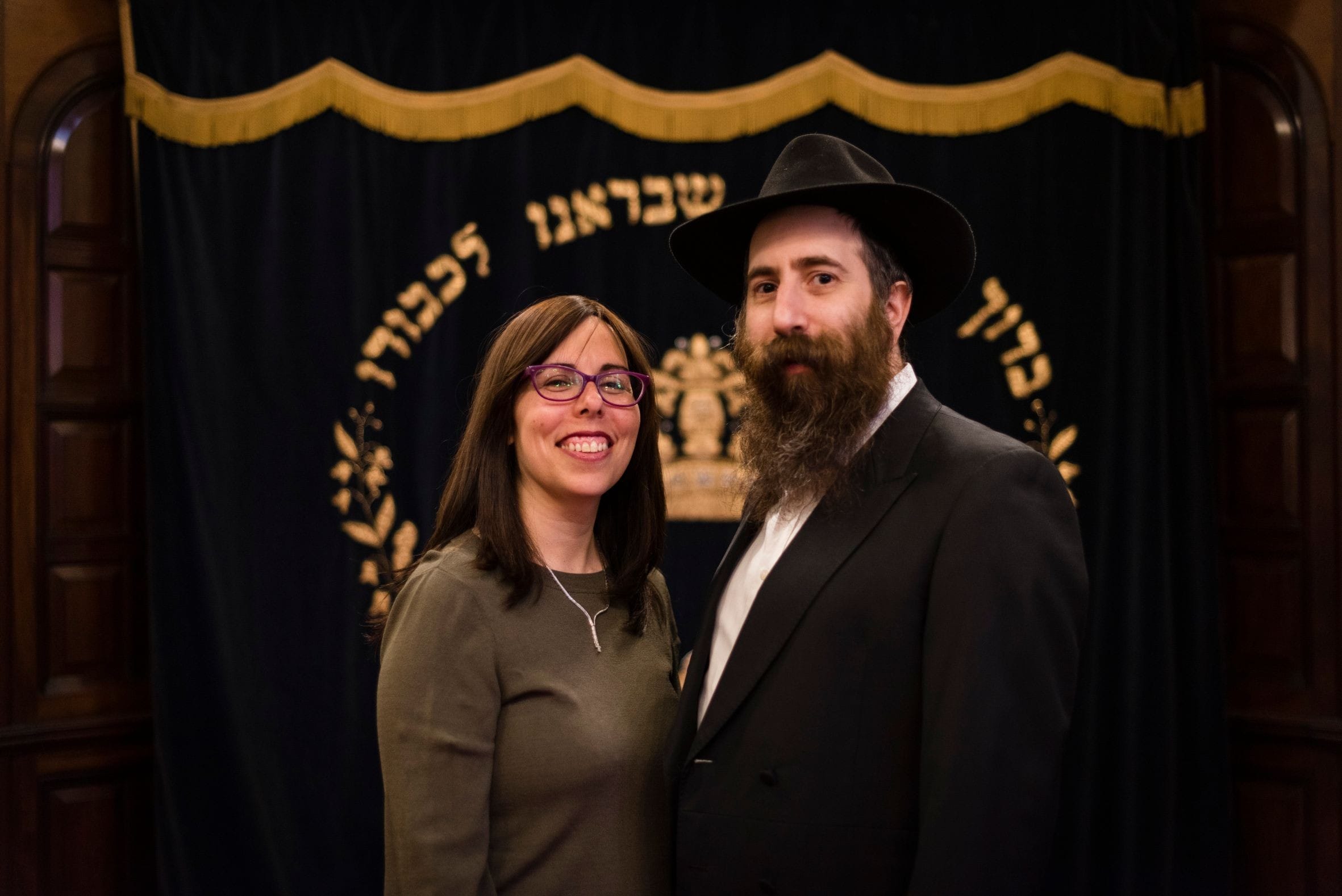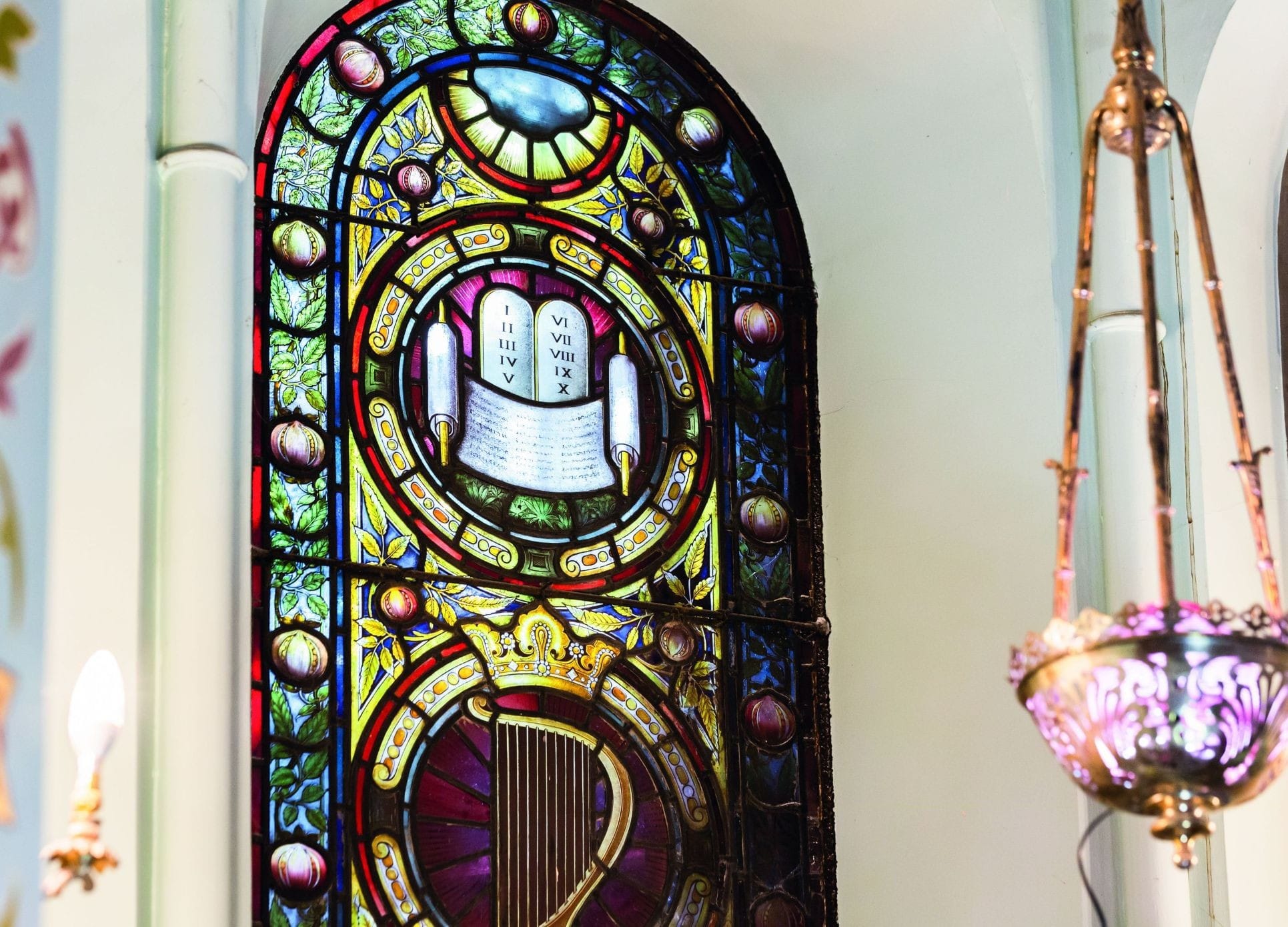 The Leicester Hebrew Congregation was founded in the nineteenth century, expanded as a result of the immigration of Eastern European Jews before the first World War, and grew considerably as the result of the Second World War. The years after 1945 saw it becoming steady at its present size, although its detailed shape and structure has changed greatly through the movement of individual families into and out of the area over the past thirty years.
There are traces of a Jewish community in Leicester during the middle ages, but by the early thirteenth century there was no longer any community, and the 'Jewry Wall' refers not to Jews but the 'Jurats' [aldermen] of the borough. In more modern times, the eighteenth century saw some itinerant Jewish peddlers in the county, but it is in 1849 that the first residents who can be identified as Jews are to be found. Many of them were shopkeepers, often associated with various clothing or tailoring manufacturing trades, but they were also to be found retailing, not least of all in the long-established Leicester market.
It was after the foundation of a partnership between Israel Hart of Canterbury and Joseph Levy of Leicester to form what became the nationally known firm of Hart and Levy that the community began to take formal shape. There is a local report in 1861 of the appearance of a small community of Jews in the Borough, and it was about this time that Israel Hart moved to Leicester and bought for himself a big house in the suburbs.

Details of the early community are scarce. There is no information of the earliest ministers to the Congregation but by 1870, Rev. Israel Leventon was minister to the Leicester Congregation, one of a series of ministers that has remained unbroken since then. A silver ritual pointer in the possession of the Leicester Hebrew Congregation records that it was presented 'to the Holy Congregation of Leicester' in 1871, and an early Directory of Anglo-Jewry published in late 1873 includes a brief entry for Leicester. It was at about the same time, in 1874, that there begins to be some mention of the Leicester Hebrew Congregation in the Jewish Chronicle. In 1875, the Congregation was licensed for weddings by the Board of Deputies and thus received its final recognition.

For many years Israel Hart was the most prominent member and almost perpetual President of the Congregation; he was also very prominent in the life of Leicester itself and marks of his munificence are still to be seen in the city. One of the most prominent is the magnificent fountain in Town Hall Square. He was four times Mayor of Leicester and began a tradition of links between the congregation and municipal life. There have so far been three Jewish Mayors or Lord Mayors of Leicester – Israel (later Sir Israel) Hart, Cecil Harris, and Sir Mark Henig – and for many years the annual Civic Service in the synagogue continued to mark these long-standing connections.

But other individuals contributed greatly to the early years of the congregation, and there are still some individuals in Leicester, like the Jacobs or May families, descended from some of these 19th-century pioneers. At the end of the 19th century, ten families were sent to Leicester at the invitation of 'a leading tailoring firm' (probably Hart and Levy) bringing the community to some sixty seat holders, and at the same time, the rented buildings which had been used as a synagogue became both inadequate and virtually beyond repair.

Therefore, it was decided to build a new synagogue which was formally opened in 1898, one of the few provincial buildings designed specifically for that purpose. A notice in the Jewish Chronicle reported that the majority of the congregation was 'of the working class'.

As the community grew over the following years it remained very tightly knit and cohesive, but at its centre was always its minister. It is indeed very significant that in the first hundred years of the community, 1874 till 1974, two ministers between them, Revd Newman and Revd Susman, served the community for over fifty years, but all the ministers were important in maintaining standards of religious life and education. Equally important were the laymen of the community, for both the Jewish and non-Jewish communities. The Lord Mayors have been mentioned, but there were also men like Mac Goldsmith whose names were widely known both inside the community and on a national level.

Like many other communities, it had a proud record in both World Wars. Tablets in the vestibule of the Synagogue record the names of forty-nine men associated with the Community who served in the First World War; given the size of the community at that stage it is a remarkable record while equally remarkably only three were killed. The equivalent tablet for the Second World War records the three members in the armed forces who were killed.

The Second World War saw a significant if temporary growth in the size of the community. Rationalisation of the garment industry during the War led to several small tailoring firms leaving London and being relocated in Leicester, and though many of these evacuees returned to London after the end of the War a number stayed to become stalwarts of the community.

Leicester remains typical of many of the provincial communities of Great Britain. Its demography has changed greatly, while its membership reflects much more than ever before how Anglo-Jewry has been changing. An appreciable number of its members are connected with the University, while many of the children of the community go out of town to University and are thus attracted away. But it still retains a solid core of members, and the centre of its activities remains the synagogue.

Aubrey Newman, Leicester Hebrew Congregation: A Centenary Record

Aubrey Newman and Pat Lidiker, Portrait of a Community: a History of the Leicester Hebrew Congregation

Rosalind Adam, Jewish Voices: Memories of Leicester in the 1940s and 1950s

National Lottery Heritage Fund (NLHF) Project
In 2018, the Leicester Hebrew Congregation was awarded a grant of £1.157 million by The National Lottery Fund (now NLHF) for a project "Sharing Jewish Heritage in Leicester".
This funding has been used to build and set up a Heritage Centre to preserve, celebrate and share Leicester's rich Jewish heritage.
The Leicester Hebrew Congregation Synagogue has been used by the Jewish community for worship and educational purposes since 1897.
Currently, the building welcomes over 2,500 visitors a year as well as being used for regular worship by the local Jewish Community. The historic school rooms have been transformed into a Heritage and Educational Centre to welcome the public, schools, and various other groups, responding to a high demand for Heritage visits. The Project has enhanced the Synagogue by refurbishing the main synagogue and Mikvah (ritual bath), creating a new entrance and opening up spaces, previously unavailable to the public allowing for full disabled access to most areas.
The restored spaces support activities including hands-on sessions for schools, family activities, research sessions and Heritage Days. New displays including a timeline of the Community's history will let people explore the Community's past and interactive AV display will allow visitors to explore Jewish heritage and culture. Existing and new volunteers are trained to support visits. New links, engagement activities and partnerships will create a sustainable future for the building and the wider history of Leicester it represents.
Serving the Local Hebrew Community
Our synagogue is open and welcoming to all members of the Jewish community.
Sunday 8:30 a.m.
Shabbat: 9:30 a.m.
Rosh Chodesh and Fast days: 8:15 a.m.
Friday (Summer): 7:30 p.m.
Friday (Winter): At Candle Lighting Time
Shabbat (Summer): 6:00 p.m. (Email for Location)
Shabbat (Winter): 12:30 p.m. Approx.
See below for special arrangements due to Covid Restrictions
Update on COVID-19 Safety Procedures for Shul Services
Please read the following carefully to ensure you are familiar with current guidance that you need to observe to keep everybody safe.
All Covid restrictions for services in Shul have now been lifted. The Congregation looks forward to getting together once again as a community and socialising in a relaxed manner.
Participation in services and social events is at your own risk. If you prefer to wear a mask or take precautions this is understood and respected. A provision of hand sanitiser and face masks will be maintained for the time being. The Rabbi and Management Committee will continue to monitor guidance from both the Government and the Chief Rabbi's Office. The Community will be informed of any further changes to Covid-19 safety procedures.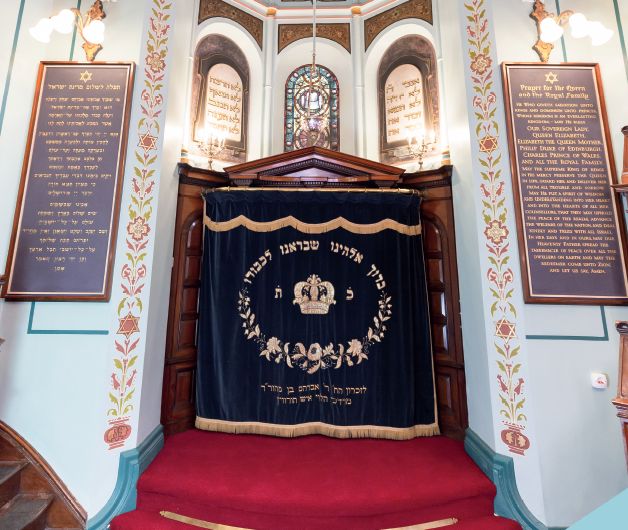 No activity is risk-free at this time, but we have taken all possible precautions to mitigate any potential risks in line with current guidelines. Nevertheless, every individual must assess their own situation and attends at their own risk
Rabbi Shmuli and Anthony Jacobs